June 17-21, 2019. 9 AM - 12:30 PM.
For children 3 years old (and potty-trained) through 6th grade. This epic African adventure engages the whole herd. At Roar, kids explore God's goodness and celebrate a ferocious faith that powers them through this wild life.

Registration is open, but there are only a few spots remaining--register today!

Cost: 1st child: $20, 2nd child: $15, each additional child: $10--children must all be in one family for the discount.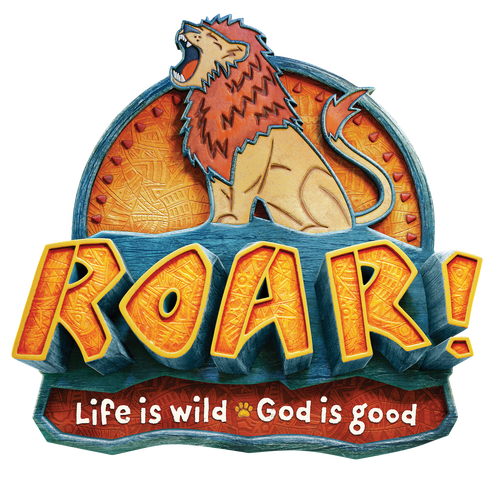 Check out our Facebook page for exciting updates and important information!
WEEKLY EVENTS FOR CHILDREN
Sundays at 9:15 and 11am:
Newborn – PreK Classes: Registration Desk.
Turbo Experience (K-6th Grade): Gym.
Wednesday Bible Study (KONNECT/KONNECT 5)
K-6th Grade Bible Study will start back up in August! Stay tuned for more information!
Ridge Kidz is a great way to plant the love of Jesus in your child's life.
It is our goal to provide each child a loving, caring, and fun atmosphere where they can enjoy age-appropriate learning about God's love and His plan for their life.

Please read below for more information on the exciting programs and opportunities for kids at Laurel Ridge.
Preschool
(Birth – Kindergarten)
Bumblebees (newborn-9 months)
Lady Bugs (10-17 months)
Butterflies (18-35 months)
Fireflies (36 months-K )


Sundays @ 9:15 a.m. – Through various games and activities, children interact with adult teachers and other children to learn that Jesus is their friend.


Sundays @ 11 a.m. – We amp it up during the second hour!! We continue to teach preschoolers that God wants to be a part of their everyday life through various Multi-media presentations, hands on crafts, Bible stories, and group interaction and games. Preschoolers have so much fun, they usually don't want to go home!
Turbo Experience
(Kindergarten – 6th Grade)
Turbo Experience – Sundays @ 9:15 & 11 a.m. (Simultaneous with the adult worship services) We have fun learning about God. This describes the worship that your kindergartener – 6th grader can experience on Sunday mornings. Turbo is a time of singing, games, multimedia, and so much more. Our goal is to teach your children Godly values, Biblical truths, character qualities, and strong morals. It is high energy with activities, singing, skits, interactive Bible Stories, and life examples.

***JUST FOR KIDS!!!! Each Sunday children earn points for bringing their Bibles, learning their memory verse, bringing friends, doing the take-home lessons and other surprise ways. The points can be redeemed for various prizes in our Turbo-Mart Store.
KONNECT and KONNECT 5
(K – 6th Grade)
KONNECT/KONNECT 5 WILL START AGAIN IN AUGUST!KONNECT is the Wednesday night Bible Study that takes your child through the entire Bible (Genesis – Revelation) in a four-year time frame.
KONNECT is open to all K-4th graders and runs concurrently with the school schedule (September through May) each year. Children start together in a large group and then split up into small groups. In the small group time, Bible stories will come alive through hands-on craft projects, crazy games, and make-it-yourself snacks. The children will finish the night with their group leader for a time of review and prayer.
KONNECT 5 is for 5th and 6th graders.
It is a combination of Bible studies and life skills as they enter those teenage years.
For both KONNECT and KONNECT 5 the cost is $30.
There is a discount for each additional sibling registered in either group. The cost pays for a t-shirt and materials needed for study, craft, games, and more. You and your child are invited to visit and see what it is like before joining. Funds will be collected at time of registration. For more information, contact Pastor Brian Russo at
[email protected]
or 925-625-9500.
Special Events for Children!
(Upcoming Events)
Konnect/Konnect 5 Breaks for 2018-2019:
May 8: Family Dinner
KONNECT/KONNECT 5 STARTS UP AGAIN IN AUGUST--STAY TUNED!
SUMMER CAMP – June 24-28, 2019 ($100 deposit, $284 balance). While Summer Camp seems like it's a whole year away, Lifeway (the company that runs CentriKid programming), requires deposits for camp in JANUARY. Crazy? Yes, but CentriKid is so good we deal with the craziness. Check with Pastor Brian for space availability. The $284 balance (add $100 deposit if not already paid) is due at the Mandatory Parent and Student Meeting on either May 29 at 6:30 PM or June 5 at 6:30 PM. Registration can be completed without any payment, but it will not be official until the $100 deposit has been paid.
VBS WORKERS NEEDED